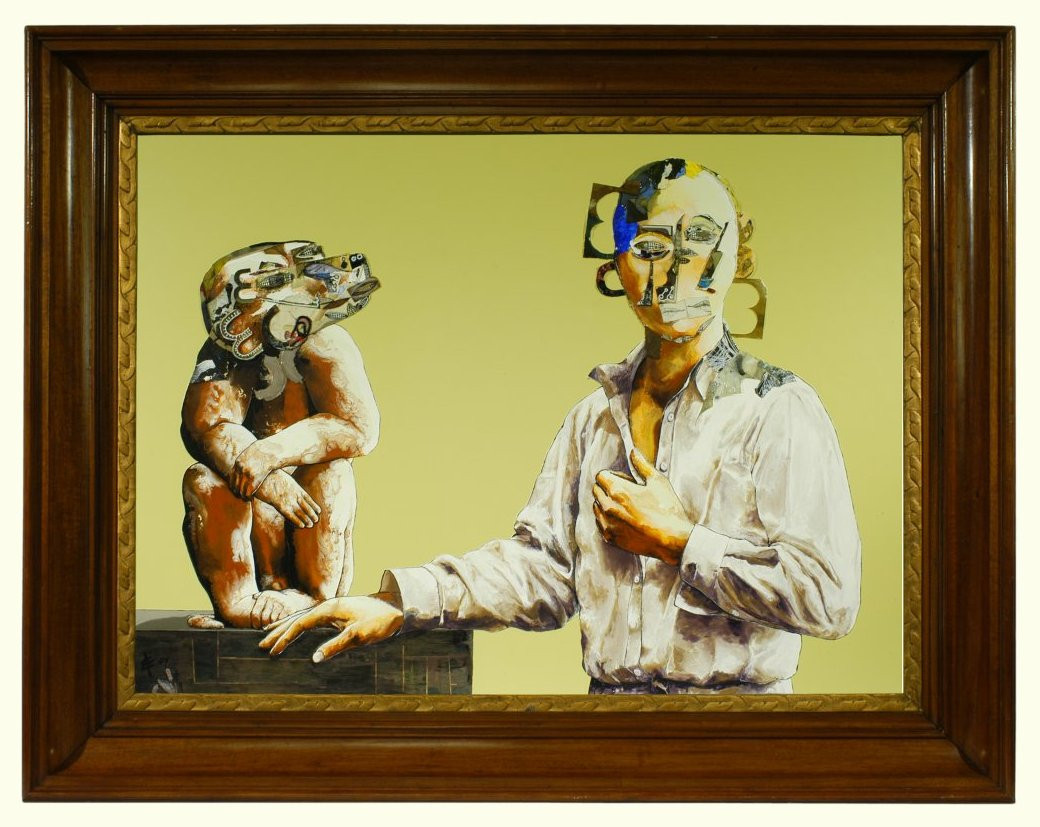 Werk / Work 2007
Italian marble sculpture of a baboon, next to him the artist
Frame Art Deco dating from c. 1925 dimensions 134 x 105 cm
Lijst Art Deco ± 1925 afmeting 134 x 105 cm


For me, creating a work of art is always linked to respect for the characters I create.
The work is only good if he or she is independent.
The visual artist stands next to his work, in this case a baboon made from Italian marble.
The artist adopts a stately pose next to his work, his carriage and features showing feelings of pride and of diffidence: the work of art is so alive and has such a powerful mind of its own that it feels uncomfortable.
The art work, the baboon, does not have stage fright.
I have placed the ape in the period around 1930, the time of Art Deco.
The artist I have placed at the end of the 19th century, in a traditional pose.


Het creëren van een kunstwerk gaat voor mij gepaard met ontzag voor de karakters die ik verwezenlijk.
Het werk is pas goed als hij of zij zelfstandig is of zijn.
De beeldend kunstenaar staat naast zijn werk, in dit geval een baviaan die uit Italiaans marmer is gemaakt.
De kunstenaar poseert statig naast zijn werk met in zijn houding en zijn gelaat gevoelens van trots en van verlegenheid: het kunstwerk is zo levend en heeft zo'n krachtige eigen wil dat het onwennig aanvoelt.
Het kunstwerk, de baviaan, heeft geen plankenkoorts.
Ik heb de aap geplaatst in de tijd van 1930, in de periode van Art Deco.
De kunstenaar heb ik geplaatst eind 19e eeuw in een traditionele pose.