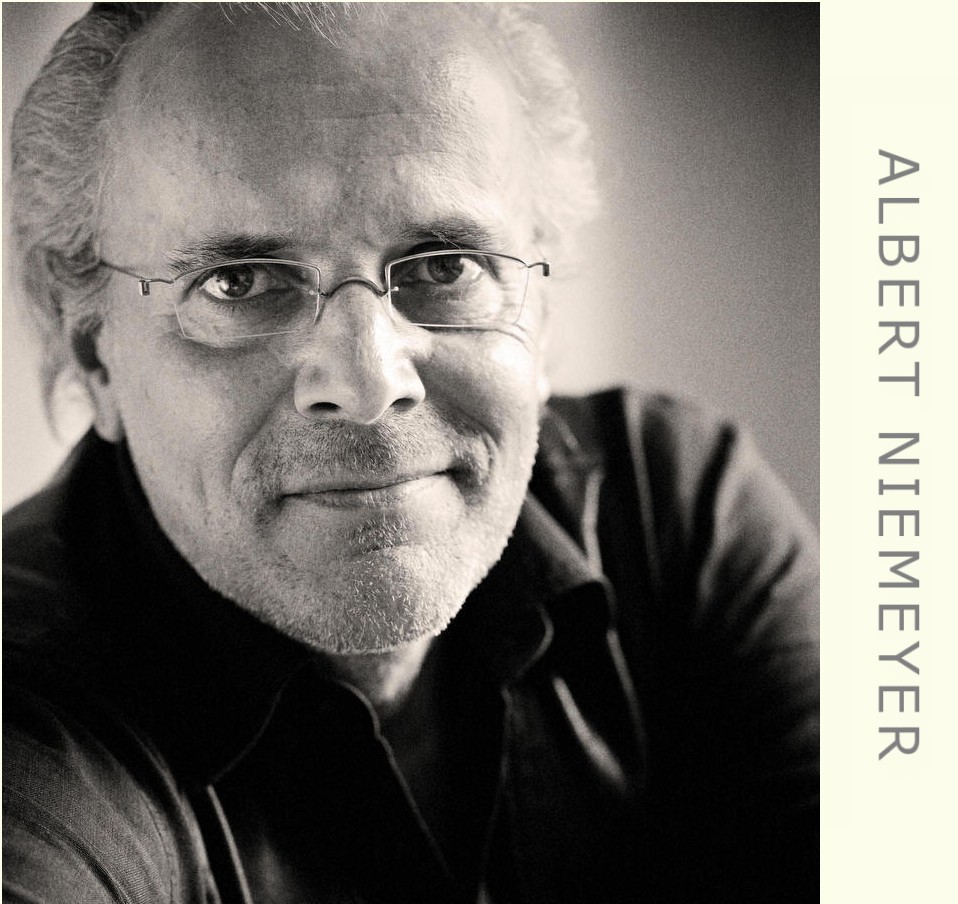 Albert Niemeyer (Breda, 10 April 1951) was still a young boy when he became fascinated by the work of artists such as Van Gogh, Dalí, Appel and particularly Picasso and Chagall. "The freedom that they allowed themselves in their work to depict life in all its facets in such an extraordinary way changed my life for good," he says. Niemeyer drew pictures from an early age. After graduating from the graphical school in Eindhoven, the city to which the Niemeyer family moved in 1956, he spent a number of years working for zoos. However, he not only looked after the animals but observed and painted them too, in all sincerity. Initially, he drew them with photographic precision but, slowly but surely, he began to work in a freer way, in a style that evokes associations with the work of some of the Cobra painters.
Energy
In 1972, Niemeyer married Ingrid de Kruyff. Together they ran the 'De Hazenberg' animal sanctuary in Amerongen. From the end of 1974 up to 1980, Niemeyer worked as a commercial artist and designer specialising in illuminated advertisements. In 1978, the couple moved from Waalre to the village of Ommel in Brabant, where Niemeyer began to live and work in a former church. It was in this period that he began to increasingly devote himself to his art, supplementing this by giving drawing lessons to children and adults. Niemeyer has never wanted to take advantage of government art-purchase schemes and thus has never made concessions in his creativity. "It demotivates your energy. I had a clear goal and I worked towards it," he says about this time. The breakthrough came with an invitation to exhibit at the Willy Schoots gallery in Eindhoven and the Reflex Modern Art Gallery in Amsterdam. These exhibitions marked the start of Niemeyer's career as an artist. His work was now much in demand in the Netherlands, Europe and the United States.
Development
This was also the start of a period in which various thematic features began to recur in his work. Naturally there was the animal world but his global travels with Ingrid also influenced his work profoundly. "In Kenya I re-experienced the earth; I was kidnapped by the structured chaos of Egypt and the gold of New York." Up to the end of the nineteen-eighties he painted with acrylic paint on very large sheets of paper that were framed in Perspex frames that he designed himself. At the beginning of the nineteen-nineties, he began to paint primarily on canvas. He not only applies the paint with brushes but also with his hands or directly from the tube. A journey to South Africa had a great influence on his view of 'being human'. "White and black in South Africa is painfully caricatural." ('A white farmer in South Africa' from 1991). Meanwhile demand for his work was soaring. There was so much interest that he could hardly satisfy it. "The big demand came at the expense of my creativity," he says. "My work evokes new things and I want to continue to develop instead of sticking to a particular form or a particular manner." In his search for a renewed freedom, he started to embed his view of the world in images and objects. There was a notable exhibition of thematic work entitled 'Levenslied' (Torch Song). In the nineteen-nineties, past and present came more to the surface in themes such as 'Vergulde Tranen' (Gilded Tears, 1993) and 'Het vlot van Medusa' (Medusa's Raft, 1999).
Healthcare institutions
It was in this period that he received a commission allowed him to look around a secure ward for the demented. "I was given the opportunity to mingle with these people, to observe them and work with them and to incorporate the result into a large mural." A film and a book on this project were produced by Alzheimer Nederland entitled 'Was getekend dementie..'. and this launched a period in which Niemeyer developed applied art in Dutch healthcare institutions in the form of murals and ceiling paintings, pictures and sculptures. Demand followed from Belgium and France. Creative work with the mentally challenged and the spectacularly positive effects that this has on them has even resulted in a professional spinoff. Niemeyer is now a guest lecturer at various higher education institutes in Brabant.
New period
Strengthened by his experiences in healthcare, he started to examine 'being human' in more depth and this gave birth to a new artistic period. Niemeyer's style became more recognisable and more his own than ever before. It was intrusive, expressive. A mingling of many lines, shapes and forms. There were figures, people and animals, sometimes accompanied by objects. "I think the time in which we live is hard and crude. I want people to feel affection in my work and, above all, to show it." The materials in which he works have also been adjusted to this. "I work with acrylic paint on panels and use mixed techniques and different materials – so-called mixed media." Since the mid-nineteen-nineties, the antique frames that he buys in Paris to frame his work have also become an essential component of this. In 1997, Niemeyer moved to his characteristic home cum studio in Helmond.
Collections
From 2003 until mid 2010 Niemeyer has been working with the Etienne Gallery in Oisterwijk and has exhibited there several times. 2007 saw a major exhibition of his work which ultimately grew into his most recent theme 'Revolutionary Personalities' in which he portrays writers he admires such as Oscar Wilde, André Gide, Virginia Woolf and Vladimir Mayakovsky in a manner that is entirely his own. Over the years, Niemeyer's creations have found their way into private, institutional and corporate collections. His commissioned family portraits are a noteworthy aspect of this. They are not clichéd family portraits in the classic sense; instead, personal characteristics are incorporated in an abstract way. "I also cherish my artistic freedom in commissioned work." This typifies Niemeyer as an artist: idiosyncratic, sincere, inquiring and always developing.
Text: Jens de Jongh